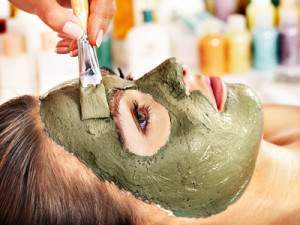 Rejuvenating Mineral Facial is one of the mineral range treatments developed by ourselves. The main part of it is the mineral mask which is created to suit your skin type and address the problems you want to deal with.  We use 6 types of clays, as well as a salts, seaweed and other ingredients, as required, to create our mineral masks (the type of mask is determined by the type of skin you have).
The procedure involves  a deep cleanse, a warm compress or steaming, exfoliation, face, neck and shoulder massage, to promote relaxation and improve circulation and tone of  the skin, a mineral face mask, another massage, toning and moisturising the skin.  The aim of the treatment is to promote shedding of the dead skin, nourish the skin, smooth down wrinkles, bring glow to the skin, making it look youthful and radiant.
Benefits of Rejuvenating Mineral Facial:
Improves skin texture and tone
Promotes circulation
Deeply cleansing
Rejuvenating
Moisturises the skin
Mineralising
Helps to reduce blemishes
Restores healthy pH balance of the skin
Nourishing for all skin types
Stimulates and livens up sallow looking skin.
To book a treatment, please use the booking form on the right-hand side or email us at bookings @ purenaturecures . com. If you have any questions, call us on 07842 052 108 or contact us using this form.